Two Vintage Selig Imperial Brown Swivel Armchairs with Matching Ottomans for Sale
$200
Come from a Cat friendly summer home on Hog Island
Chairs purchased around 1978-1980 and manufactured in Leominster, MA
On the bottom of one of the ottomans it says the fabric is Culver Hot Fudge.
Pick up at Bristol Marine in Bristol, RI or 10 minute dock in Bristol, RI next to the fire station
They will be brought over in a boat, so you must be able to help transport them from our boat to your transporting vehicle
If you have your own boat and prefer to pick them up, please contact me and maybe we can even discount them further.
As you can see in the photos, they have faded over the years and are really in need of reupholstering.
Cash Only... Offers welcome.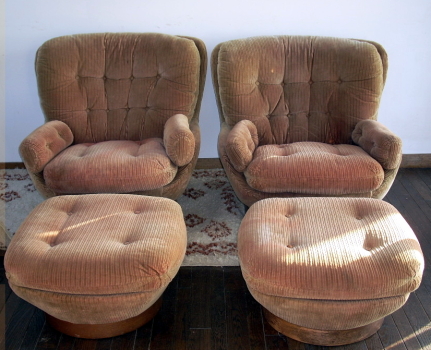 Click on any of the photos to view them larger.
---
Looking for jewelry? Check out DLSDesignsJewelry.com.
.